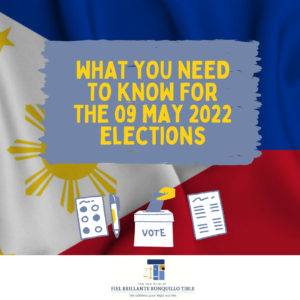 1. Prepare a list of your candidates beforehand.
2. Polling precincts open from 6:00 am to 7:00 pm.
3. It is encouraged and advisable to bring an identification card for verification purposes.
4. Negative RT/PCR results and vaccination cards are not required. However, temperature will be checked prior entry in the precinct. If your temperature is above 37.5, you may still vote at the designated isolation precinct.
5. You cannot use your cellular phones inside the precinct.
6. Do not take pictures of the ballot and the voter's receipt.
7. Do not bring the ballots and voter's receipts outside of the precinct.
8. Use the designated marker by the COMELEC to shade your ballots as this is the only one that can be read by the VCM.
9. For positions requiring the selection of multiple candidates, you may undervote but not overvote.
10. After voting, your ballot will be dropped in the VCM and a receipt reflecting the names you voted will be printed – double-check this receipt and drop it thereafter in its corresponding dropbox.
11. After voting, be sure to have your right index finger marked with indelible ink.
12. Refrain from talking with other voters or persons inside the precinct to avoid disruption.
13. Do not wear clothing/accessories bearing pictures/symbols/names of candidates.
Related Reads: